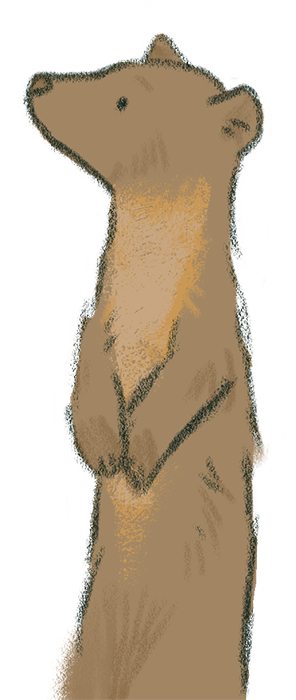 Sophie Powell-Hall / 9 December 2021
As part of our new Juralio website design, you may have spotted this little creature peeking out from behind a tree or looking out over the horizon. We're delighted to introduce the Scottish pine marten.
These elusive woodland creatures are known for their agility and determination. They are often symbols of courage and resilience in folklore.
The marten will likely be found exploring other places in the future, so do keep an eye out for its bushy tail in amongst the heather.
Realism vs anthropomorphism
We think a pine marten fits well as a curious companion while you work within Juralio. Animal mascots are popular in tech, from the Linux penguin to the Duolingo owl to the Mailchimp, well, chimp.
But there's a delicate balance when designing these characters. Some concepts we initially considered involved the marten reading a map or working on a computer. These can quickly become strange territory – are we creating a product for animals, or humans? We settled on realism rather than anthropomorphism.
We think the curious pine marten helps to make the Juralio website and software feel welcoming and friendly, but we'd love to hear your thoughts!

Product
We are updating the Juralio product to include, subtly, some of the new visual elements which you see on the website, including an occasional appearance by the elusive marten.
If you're already using Juralio, you'll see this later in December. If you haven't had a chance to use Juralio yet, get in touch and we'll happily arrange a demo for you.